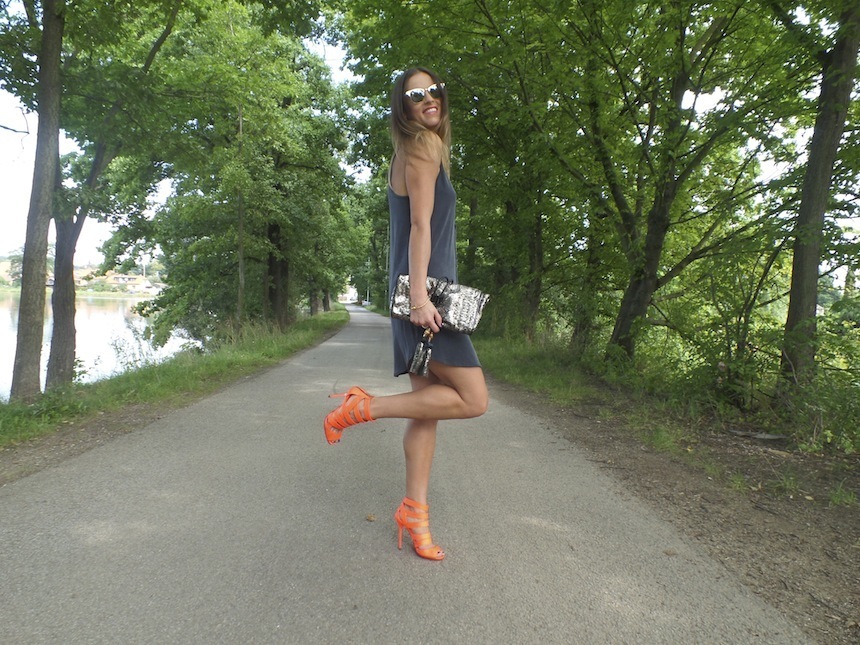 Tento model mě moc baví a cítím se v něm velmi dobře:-). Mám ráda šaty, vysoké pohodlné lodičky, brýle Ray-Ban a mnoho doplňků!!! V tomto outfitu mě můžete potkat jak na párty, tak během dne ve městě, když si to mířím s kámoškami nebo manželem na obídek. Botky jsem koupila tento rok kolekce Jaro/Léto Jimmy Choo. Jsou z jehnečí kůže a proto jsou velmi měkoučké a strašně pohodlné. Klidně v nich vydržím tančit celý večer bez puchýřů :-). Když jezdím po mých cestách světem, tak jsou vždy semnou právě z těchto důvodů. Nikdy nezklamou.
Šatečky neboli delší top, můžete koupit v  ZARA cca 899. Cenu si přesně nepamatuji. Baví mě jejich černo-šedá barva s matným vzhledem.
Tip: Můžete je nosit jako šaty "my look" nebo delší top (stačí,když jednu stranu předního topu dáte do kalhot, sukně nebo šortek. Vytvoříte ležerní look, který bude vypadat velmi cool.  Zároveň můžete pod tyto šaty/top obléci krajkovou podprsenku (zde se můžete podívat, jak to myslím:-)), která bude z části koukat ven a dodáte tomu sexy look, který nebůsobí vyzývavě).
Moje nové náramečky ze kterých jsem doslova IN LOVE. Nejsou roztomilé? Je to nová kolekce "Thin new in" od  SYMBOL. Podívejte se na jejich stránky co zase krásneho team symbol vvymyslel. Líbí se Vám?
Dress: ZARA
Shoes: Jimmy Choo
Bag: Vintage
Bracelets: Symbol, Alexander Mcqueen
Necklaces: Symbol
Sunglasses: Ray-Ban
PS: Ve středu odlétám do NYC, tak se cítím opravdu HAPPY. Jak se máte vy? Doufám, že také HAPPY. KISS Vaše Baruš
I want to inspire you because you are inspiring me
WITH LOVE