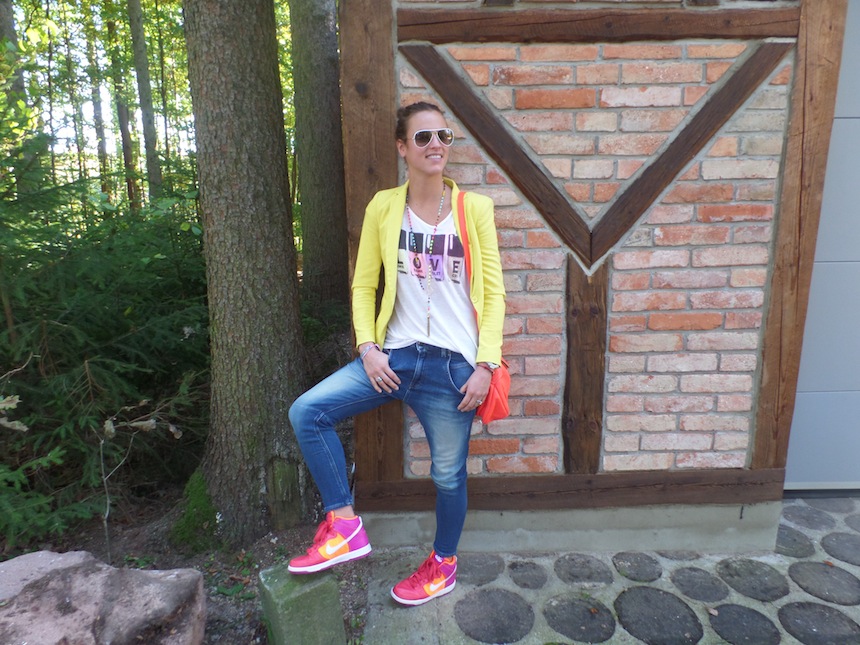 Včera byl den jako z pohádky. Měla jsem opravdu skvělou náladu. Užívala jsem si barviček podzimu a tepla slunečních paprsků. Proto jsem se také oblékla do barevného outfitu od hlavy až k patě :-). Užívejte si ještě  krásného babího léta a zároveň barviček na mém včerejším sportovním looku.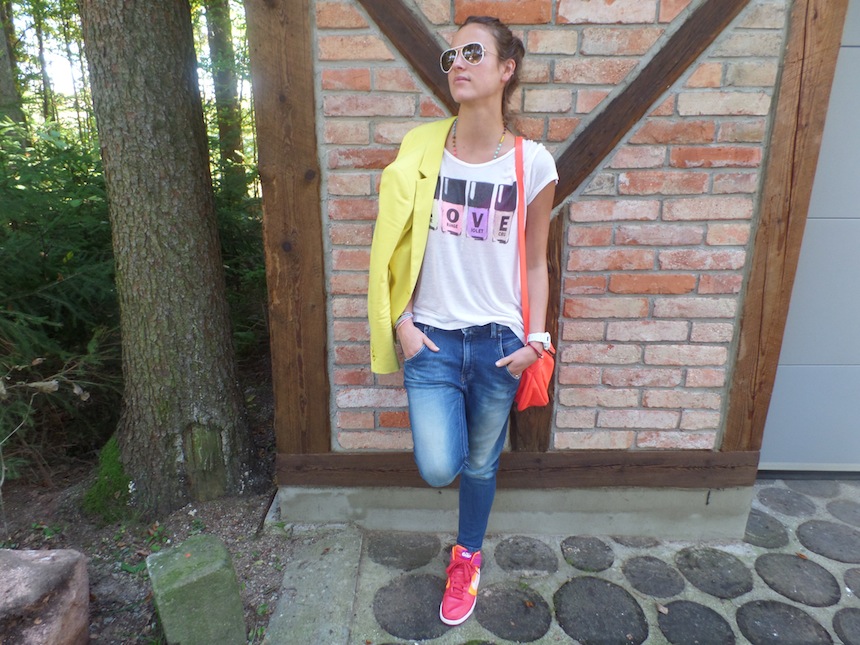 Barvy mám ráda a nehodlám se jich jen tak lehko vzdát navzdory tomu, že už vítáme podzim. Tohle období svádí ke tmavším odstínům. Já se k nim také brzy začnu přiklánět…No ale včera jsem to ještě rozjela v zářivém stylu:-). Myslím, že jsem byla k nepřehlednutí…:-)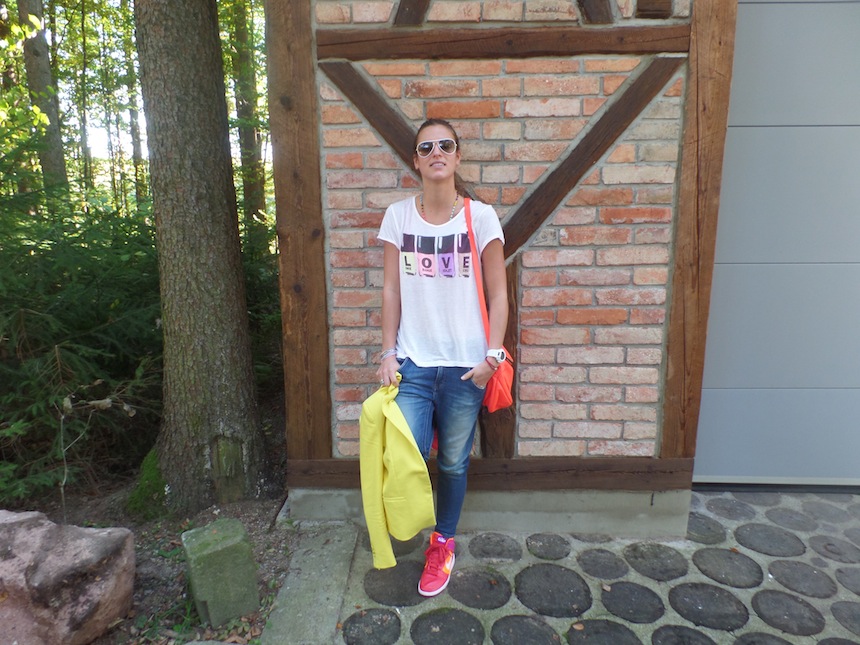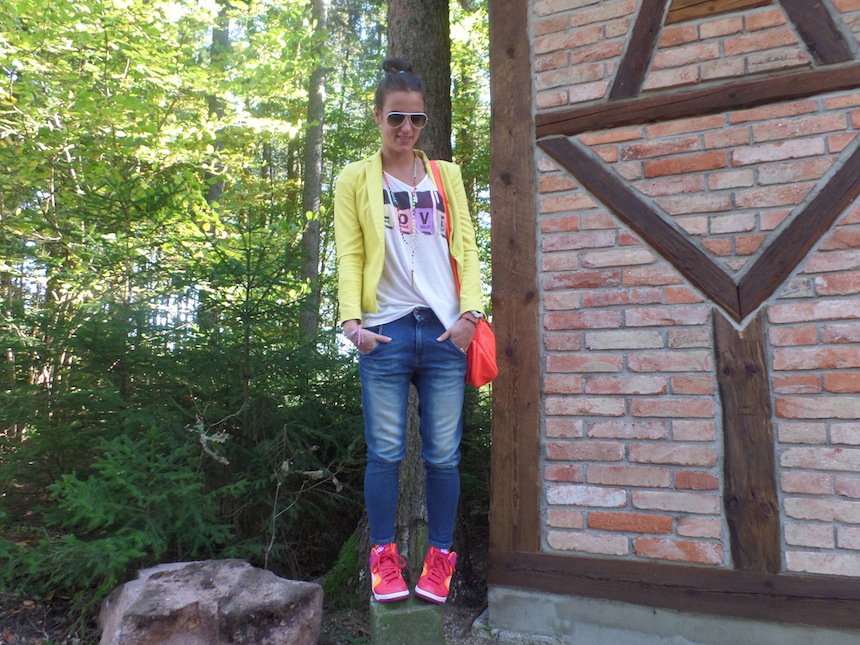 Mám moc ráda tyto Jogg jeans od firmy Diesel. Jsou z neskutečně pohodlného materiálu. Přijdete si v nich jak v teplákách. Pro mě jsou velkou záchranou na cestách. Když nechci cestovat v teplákovce, ale vypadat trochu k světu, tak jsou super kompromisem.
Když se znovu dívám na tyto fotografie, tak  mi příjde,  jak kdybych se vrátila do věku teenagera!!! Poslední dobou nosím spíše jednoduší věci, ale tady jsem se trochu vyřádila. Baví vás tento outfit?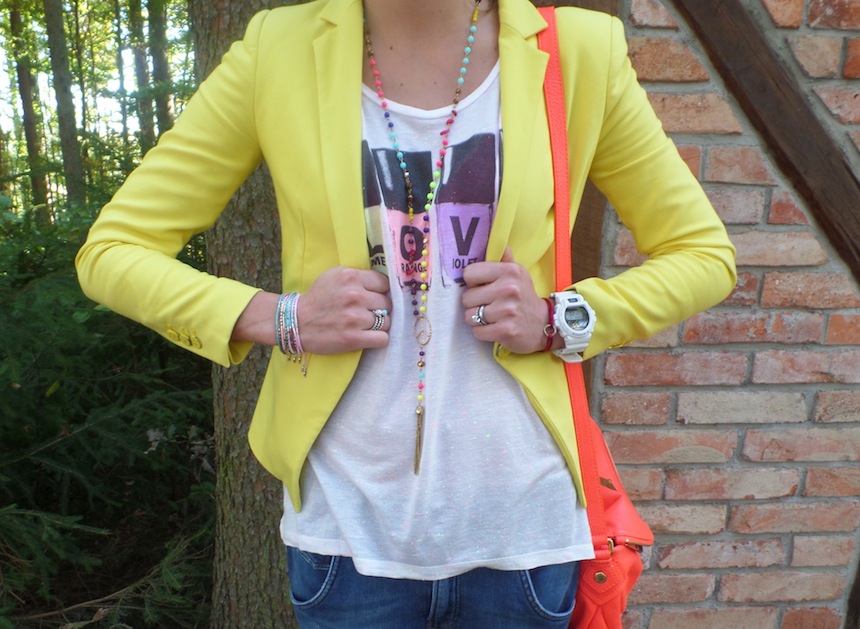 Tip: Nebojte se vzít k totálně sportovnímu outfitu elegantnější kousek, jako třeba zde – sako !!! Dodáte tomu šmrnc a špetku ženskosti. Trochu experimetovat  a zkoušet nové věci je základ života. To nemluvím jenom o oblečení, ale třeba i v jídle, sportu, cestování atd.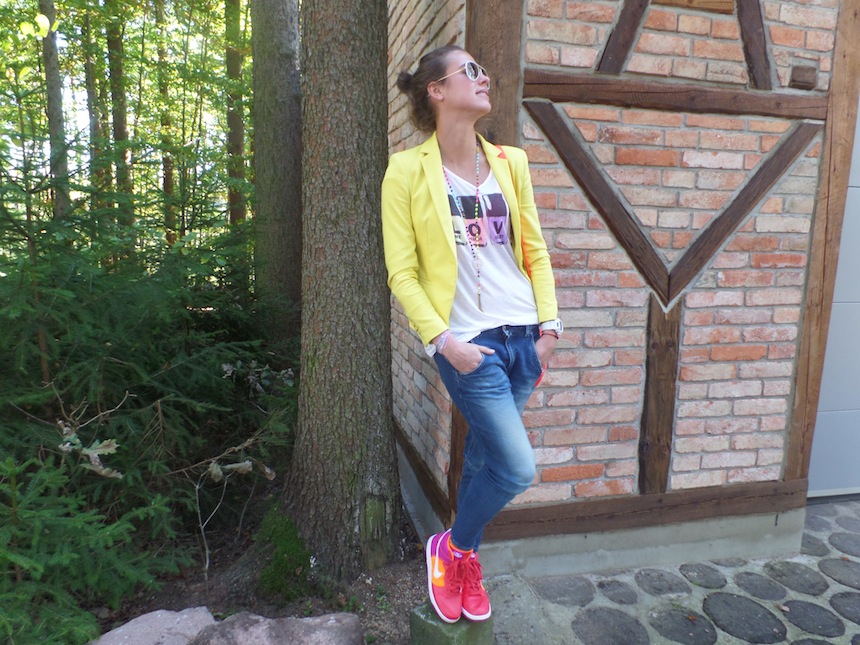 Top: Vintage ( similar )
Jeans: Diesel
Shoes: NIKE
Sunglasses: Ray-Ban
Rings: Pandora
Watches: G- SHOCK
Necklace: Vintage
PS: Myslím si, že život bez objevování a zkoušení nových věcí by byl nuda…Je velká škoda, když žijete život pouze  v zaběhlých kolejích, na které jste zvyklá!!! Život je natolik krátký , že experimentovat se MUSÍÍÍ. Na co bychom ve stáří přece vzpomínali??? Krásný víkend a v neděli se vidíme zase TADY :-). KISS Vaše Baruš
I want to inspire you because you are inspiring me
WITH LOVA