Tento post bude trochu delší, tak si pěkně ulehněte do křesla, udělejte si teplý čaj a pojďte se mnou zavítat do místa, které mi vždy bude ležet v srdci z mnoha důvodů.
This post will be a bit longer. So get a cup of warm tea, relax in a comfy armchair and join me for a tour through a special place. This place will stay in my heart forever. For many reasons.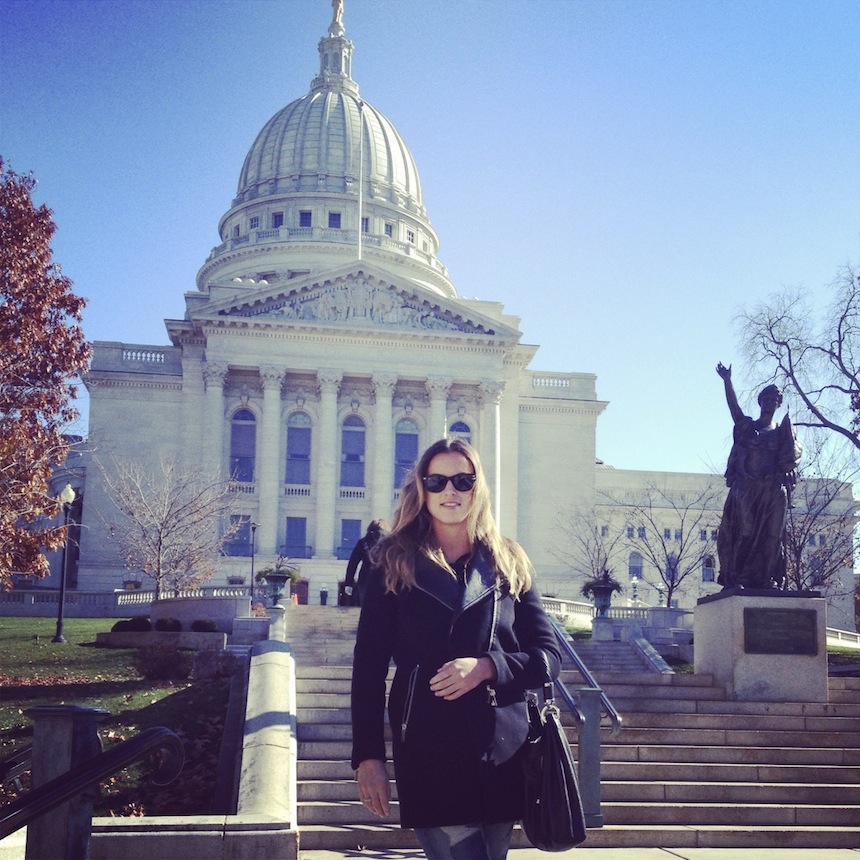 Určitě jste si již všimli podle mých Travel Posts, že k USA mám velmi kladný vztah. Poznala jsem tam už mnoho krásných míst. Když jsem poprvé navštívila mého tátu, který žije v Madison ve státě Wisconsin, byl to pro mě hlavní zlom a od té doby jsem začala mít Ameriku opravdu ráda.
I bet you have already noticed that I really like the USA (check out my Travel posts). I have visited many US destinations. It all started at the time when I visited my Dad in Madison, WI, where he lives.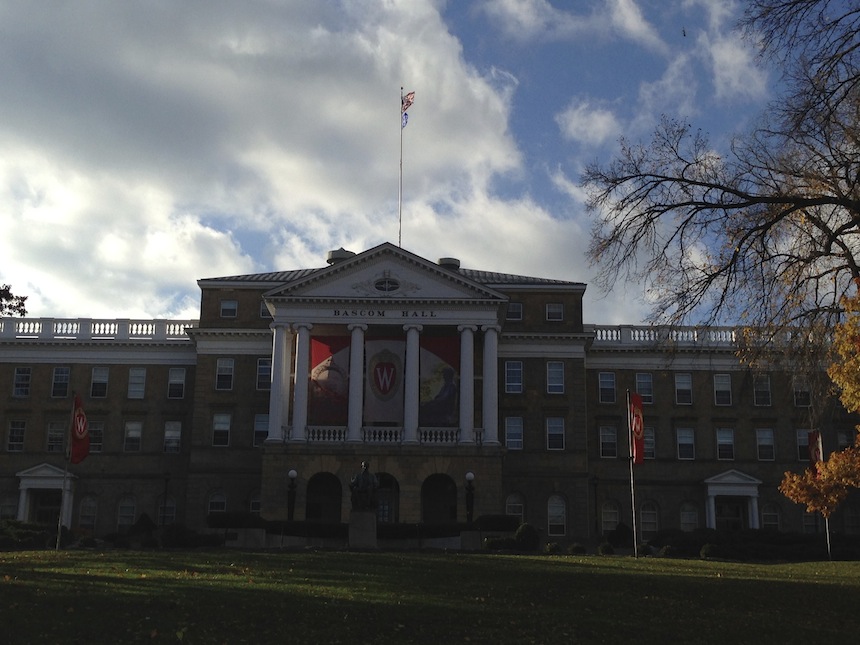 Asi jste o tomto městě nikdy neslyšeli. Není to NYC či LA, ale pro mě stejně originální, úžasná a další nezapomenutelná destinace v USA, do  které jsem se zamilovala.
Maybe you have never heard about this town. It is not NYC or LA, that is true. Madison is unique and original and really unforgettable for me, though.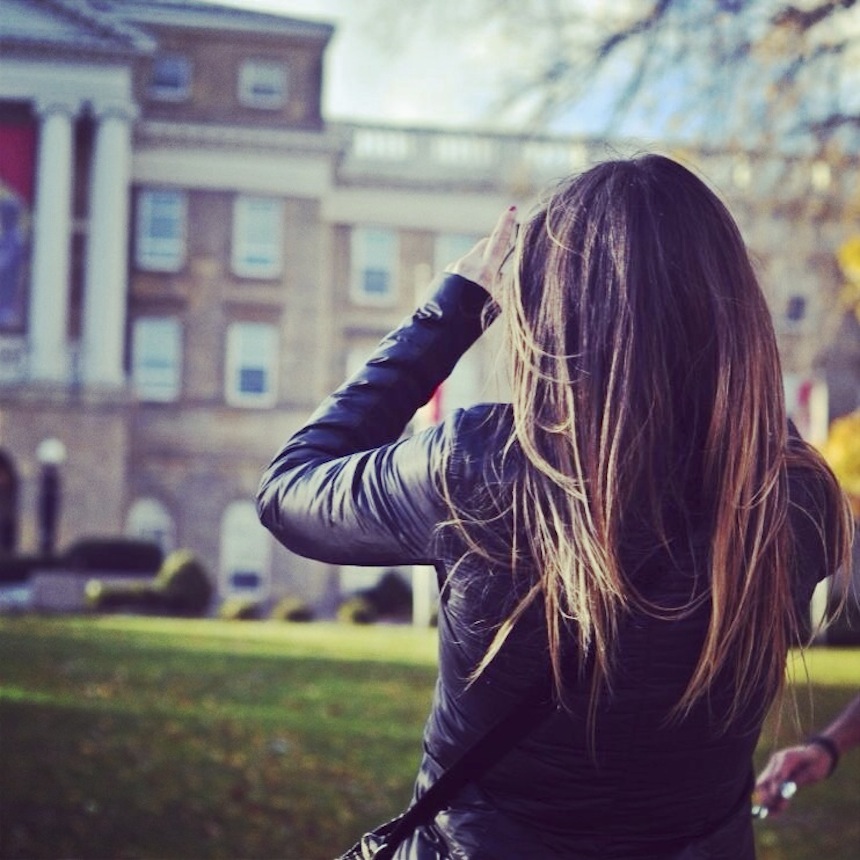 Poprvé jsem do Madison přijela v listopadu 2012 na studia angličtiny a navštívit mého tátu. Od té doby jsem zde byla ještě dvakrát a to vždy na měsíc, přesně v tento dnešní den jsem tam pokaždé odlétala. Mám v sobě velkou nostalgii a chci se s vámi o ní podělit. Tudíž to není úplně aktuální příspěvek, ale musela jsem vám tohle místo představit, protože se tam už možná na tak dlouho nikdy nepodívám a vzpomínky bych chtěla zdokumentovat prostřednictvím mého blogu.
I visited Madison for the first time in November 2012. I wanted to see my Dad and also learn English. I have been to Madison three times so far. Each time for a month.  Each time in the fall. Today's date is like my special anniversary. So I feel nostalgic and I want to share my experience with you. I want to introduce this wonderful place to you. 
Lidem narozeným ve státě Wisconsin se říká "Cheese people". Proč? Jsou největšími výrobci mléčných produktů  a sýrů v USA. Američané si je vtipně pojmenovali, nemyslíte? Já, sama milovník sýrů, jsem to opravdu ocenila a také to ocenil i po měsíci můj zadek :-).
People who were born in Wisconsin are called "Cheese people". Why is that? The state of Wisconsin is the largest producer of milk products and cheese in the USA. That is why. Funny, huh? As I love cheese, I have always enjoyed my stay. And apparently, my butt has too :-).
Madison patří mezi jedno z nejlepších univerzitních měst v USA. Atmosféra města žije jenom mladými lidmi, studiem, školními kluby, restauracemi a bary.  Všude vidíte mladé ambiciózní  lidi . Každý má představu, čím chce být , sny a motivaci. Pro studenty je zde skoro vše zadarmo. Posilovny, knihovny, muzea…No sen každého studenta. Tady by bavilo studovat každého. I mě, která má ze školy akorát tak husí kůži. Moc pozitivních vzpomínek mi v hlavě nezbylo. Baví mě zde vcelku přátelský přístup učitelů a hlavně  jejich velká ochota pomoci.
Madison is one of the best university towns in the USA. The atmosphere is great. Young people, museums, school clubs, restaurants and bars. You see young ambitious people everywhere. Everyone has a goal, they know what they want and who they want to be. They follow their dreams. Gyms, libraries, museums… almost everything is free of charge for students. Perfect, right? Everyone would love to study here. Even me! Teachers are friendly and willing to help.
Co se týče módy, tak vám nebudu nic nalhávat. Není to jako sedět na Rodeo Drive nebo procházet se po 5th Avenue a vidět lidi, ze kterých jdete do kolen. Zde se upřednostňuje pohodlnost .Takže holky legíny, UGG, péřovka, čepice a batoh. A chlapi? Hlavně vše co nejvolnější a kšiltovka. Opravdu jen zřídka potkáte někoho, kdo vám vyrazí dech a řeknete si, že vypadá COOL. Nepotkala jsem nikoho, kdo by nevlastnil červenou mikinu, čepici a triko s nápisem Wisconsin. I já jsem si musela jednu takovou mikču pořídit, abych mohla jít na americký fotbal.
As for fashion… I will not lie to you, this is not Rodeo Drive or Fifth Avenue. Everything is more casual. Feeling comfortable is the most important thing. So it is leggins, UGG, down jackets, hats and backpacks for women. And men? Loose fit clothes and baseball caps. You usually do not meet that many people who would surprise you with how "cool" they look. Everyone has a red Wisconsin sweatshirt/hat/T-shirt. I also had to buy that sweatshirt – so I could go to an American football game.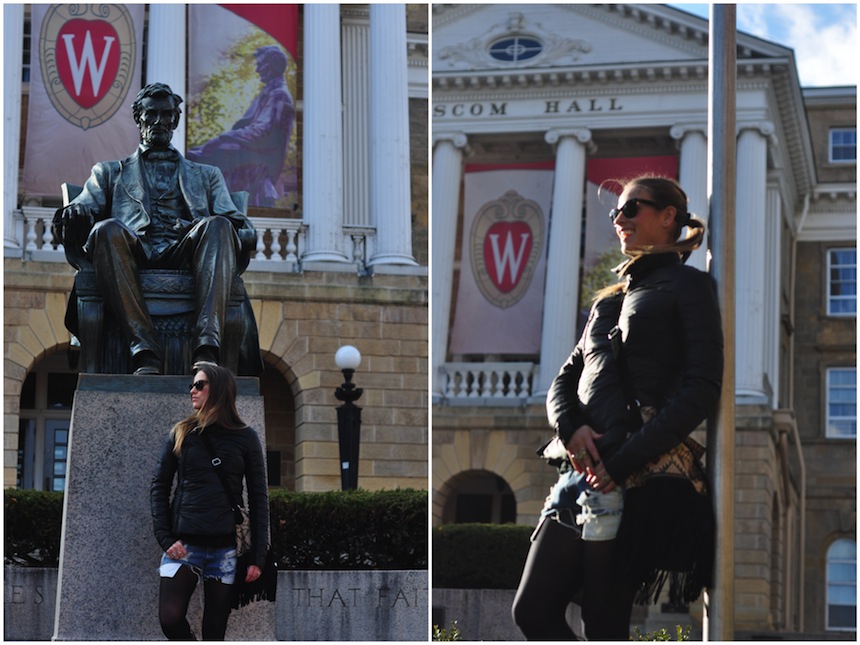 Poprvé jsem zažila opravdovou atmosféru v den zápasu od ranních do pozdních večerních hodin. Zážitek na celý život. Celé město tím absolutně žije. Sobota je prostě červená a jen se fandí a pije.
That day was great from early morning to late evening. A real American football game. What an atmosphere! What an unforgettable experience! The whole town was buzzing. That Saturday was full of red color and everyone was cheering and drinking.
I přesto, že to není fashion město, tak jsem si zde pár obchodů opravdu oblíbila. Hlavně spousty roztomilých vintage obchůdků. Ty jsou úžasné. Vše se odehrává na State Street, hlavní tepně centra města. Pokud si budete chtít zajít na drink a někam za písničkou, tak počítejte, že ve dvě hodiny zavírají všechny bary. Pro mě hrůza. Já, která se vždycky dostávám do párty nálady kolem jedné hodiny, jsem tomu nemohla uvěřit. Takže vyrazte co nejdříve. Tady nikomu stejně nebude divné, když půjdete na večeři mezi pátou – šestou. Je to tu absolutně normální.
Even though Madison is not a fashion town, I found and fell in love with many lovely vintage shops over here. If you want to go out, have a drink and listen to some music, it might be interesting for you to know that all bars close at 2 a.m. As I am usually full of energy and ready to party after 1 a.m., I could not believe that. So you should definitely start your evening sooner rather than later. Dinner at around 5 p.m. is nothing out of the ordinary.
Pokud budete někdy poblíže Madisonu, třeba v Chicagu, které je hodinu a půl autem, určitě stojí za to navštívit tohle kouzelné a zajímavé město a cestovní příručku máte zde: :-)
If you are ever near Madison (e.g. Chicago is only about one hour and a half south of Madison), it is definitely worth visiting. More information about this magical and appealing town: :-)
MY TIPS
RESTAURANTS and FOOD
Oni milují pivo, sýry brambory a tmavá masa. Měla jsem štěstí, že jsem tady poznala kamaráda , který je profesionální kuchař, takže mi tady ukázal dobré restaurace. Víte, že miluji Sushi, takže jsem ihned chtěla ochutnat místní rolky. Sushi Muramoto, Sushi red, Icon, Samba
They love beer, cheese, potatoes and dark meat. I was lucky to meet a friend – a professional chef – who took me to the best restaurants. You already know I love sushi so that was the first thing I was eager to try. Sushi Muramoto, Sushi Red, Icon, Samba
SHOPPING
Jednoznačně ulice State Street. Plná roztomilých vintage obchodů .Nacházejí se zde také dva moje nejoblíbenější butiky: BOP a Urban Outfitters. Pak miluji obchod Twings který se nachází v HILLDALE shopping center. Dále pak klasický obchodák West Towne mall.
State Street. Without any doubt. It is full of adorable vintage shops. My two favourite boutiques are located there as well: BOP and Urban Outfitters. I also love Twings shop at HILLDALE shopping center. Go to West Towne mall to see a typical American shopping mall.
INTERESTING PLACES
Záchytný bod je budova kongresu, která je opravdu překrásná. Každou sobotu kolem budovy najdete farmářské trhy. Pouze dvě minuty chůze a jste na Monona Terrace s výhledem na Michiganská jezera a pak procházkou na  Memorial Union Terrace. Potkáte tam spousty lidí, kteří si jen tak popíjí kávu a koukají na jezera. Úžasné místo.
The Wisconsin State Capitol building is a must-see. It is really quite remarkable! Every Saturday you will find a farmer's market in the area. Later on, a 2-minute walk will take you to Monona terrace with breathtaking lake views. And then continue to Memorial union terrace. You will meet a lot of people, drinking coffee and enjoying the scenery. 
NIGHTLIFE
Určitě Piano Bar!!! Hrají tam na dvě piana live, jak moderní, tak starší pecky! Bomba atmosféra. KK Bar: Typický studentský bar, kde se scházejí snad všichni, protože je tam vždy narváno až k prasknutí.
Definitely the Piano Bar!!! All kinds of music played on two pianos life! Amazing atmosphere. KK Bar: a typical student bar that is always packed. Everyone goes there! 
Madison není zrovna místem, kam se hrne stovka turistů. Kouzelnější je, že jsem poznala místo, které skoro nikdo ani moc nezná. Mám na něj jen ty nejkrásnější vzpomínky. Potkala jsem zde pár opravdových přátel s velkým srdcem. Hodně mě naučili. Ukázali další směr v životě, hodnotu přátelství, úsměvu, pomoc, čistotu duše a obětování . Udělali to pro holku, která byla sama v cizím městě. Ujali se mě, jak kdyby mě znali celý život. Závěrem bych chtěla říci, že to byly dva nejsmysluplnější a nejinspirativnější měsíce v mém životě. Díky nim jsem poznala tohle přátelské město jako rodilá "Madisonka."
Madison is not exactly a tourist destination so I am very glad I had the chance to get to know it. Really great memories of this town! I met a bunch of awesome people. People with a big heart who taught me a lot. They showed me a new direction in life, the value of friendship, the power of a smile and helping hand, the purity of a soul and self-sacrifice. And all this for a girl who was a complete stranger to them. They took me in and treated me like they had known me all their lives. Thanks to those people I felt like a Madison native. All in all, these three months were the most inspiring and meaningful in my life.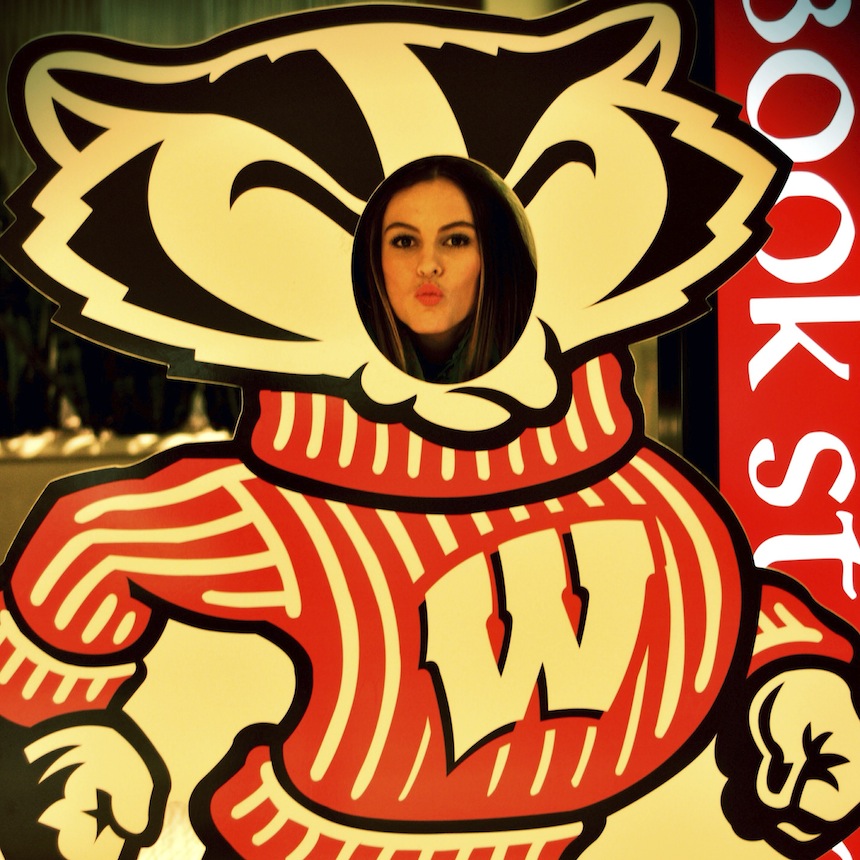 PS: Největší díky patří mému tátovi, bez kterého bych to tam nikdy nepoznala. Mám tě ráda tati. Dále Allison, Alec, Rebekah, Alisha, Feby, Khaled, Nawar, Amanda, Veru, Sarina a šéf kuchař Sami Fgaier. Děkuji Vám moc za všechno. Navždy budete v mém srdci. KISS Vaše Baruš
P.S.: All my thanks to my Dad. I would have never known this place without him. I love you, Dad. Special thanks to Allison, Alec, Alisha, Rebekah, Khaled, Na W AR, Amanda, Vero, Feby, Sarina and a restaurant chef Sami. Thank you all for everything. You will always be in my heart. KISS Your Baruš
I want to inspire you because you are inspiring me
WITH LOVE